Blog
🍎 School
5th September 2023
How to Use Open Days and Campus Tours in University Research
Contents
Subscribe
Join 10,000 other counsellors & educators & get exclusive resources delivered straight to your inbox.
Before applying to university, students will need to do a lot of research, and it's a daunting prospect. From choosing the right course, to deciding on what they want from their overall university experience, there are a lot of factors and variables for students (and their parents/family members) to think about.
And whilst encouraging students to analyse and assess factors such as graduate outcomes, campus life, quality of teaching and entry requirements is certainly important, there's one invaluable piece of research that you need to impress on all of your students.
Campus tours and open days are essential.
It's not an understatement to say that a well-planned campus visit may set the course of a student's life for years, or even decades to come. Your students may establish a memorable and personal connection with one of their shortlisted institutions that could dramatically simplify their decision making process. They may even settle on the university of their dreams!
So if you've got students who plan to apply to university, read on to find out more about:
Helping students to plan and strategize for their campus visit.
The key questions students should be asking when they tour a university.
Why virtual tours and open days mean your students don't have to worry about missing out on international destinations.
So we're going to take a closer look at visits from universities: how they work, why they're such a useful part of your student's research process, and how your students can make the most out of them to bolster their university applications.
What is a university open day/college campus tour?
It's not a stupid question. If you or your students are brand new to the university guidance process, it's something we should probably define.
Put simply, universities use open days and campus tours to give students a first-hand experience of what life would be like studying on that campus.
As well as touring the university/college campus itself, students get the chance to visit the faculty/department of the degree course they might considering. It's also a valuable chance to tour halls of residence and/or college dorms.
Help your students research university campuses with BridgeU
Book a free demo and learn more about how our unique Profile Builder can help students find university campuses that match their own personal preferences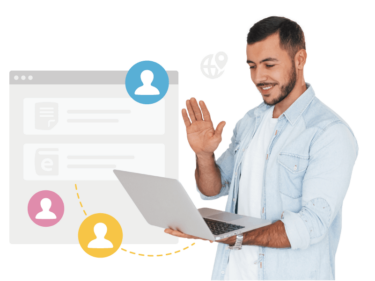 Why are open days & campus visits essential?
Put simply, research is all well and good, but when it comes to a life decision like "where do I want to study at university?", there's no substitute for lived experience. Here are some of the main reasons why visiting a university campus is essential:
It gives students an appreciation of campus life, the student body, and the overall culture and 'feel' of studying at a given university.
Students can meet faculty members and university staff, and get a more comprehensive understanding of what they can expect from their chosen course.
Students can meet people who are already enrolled at that university, and ask any relevant questions.
But perhaps most importantly, a university open day is a chance for your students to truly personalise the university application process to them, their ambitions, their concerns, and their needs. By visiting a campus, students can gain real insight that no prospectus or course database will be able to offer them.
Note: If you have students applying to university abroad, it's worth understanding that different countries use different terminology to describe visiting a university campus.
For example, in the UK and Europe, the process is commonly referred to as an attending an "open day". Meanwhile in the US and Canada, you will more frequently hear references to terms such as "campus tours" or "college visits". Students should bear this in mind when they conduct their research.
How to strategise open days and campus visits with your students
As your students look at prospective open days, it's important that they plan the logistics of their visit, factoring in considerations such as transportation, accommodation, and getting around the campus. Here are some useful questions to prompt your students with.
How many university open days should students attend?
Depending on how many universities a student is applying to, it may not be possible to look everywhere. So prioritising which universities they want to visit is important.
Geography can be a limiting factor. Popular international destinations such as the US and Canada are huge countries, so depending on where students are looking, they might want to visit several destinations over the course of several days, or a week, and coordinate transportation accordingly. Even universities in the same country may be a day away by train, car or plane.
Top Tip: Encourage your students to plan ahead. If it's worth making a university visit into a longer trip to see some other campuses, or even spend some time in the town/city where they'll be studying, it's definitely worth it.
Can you get everything you need from your visit in one day?
For a student to learn everything they need to know about an institution or course in one day is a tall order. A day passes quickly, and it may not be sufficient time for a prospective applicant to gain a detailed impression of life on campus.
If they can't get to everything in one day, it may be worth staying on campus, or near the university. Many universities (e.g. Oxford and Cambridge in the UK) will offer overnight accommodation, especially for students coming from abroad.
Top tip: Some universities will offer prospective applicants the chance to stay with a current student, so as to get a really in-depth insight into day-to-day life on campus. Check out an individual university's website to see what they have on offer.
How will you get the most from your visit?
Universities will make prospective applicants feel as welcome as possible, and there will be lots of relevant presentations, talks and tours for your students to take advantage of.
Nevertheless, the question remains – how will they use the visit to their advantage? What questions or concerns do they have and how do they plan to get answers?
Top tip: Before students leave for their open day or campus visit, make sure that they prioritise a list of personalised questions to ask faculty members, tour guides, and current university students. It's also important that they have a clear and realistic itinerary for the day in question (see below for more info on this)
How can students make the most out of their visit?
When the day of the visit finally arrives, there are a number of things that students can do to ensure that they get a fully personalised insight into life on campus.
Here are a few ideas and tips for making the most out of a campus visit or open day…
Get to know the course
Their chosen course of study is, ultimately, the main reason why your students will be touring selected universities. So it's vital that they gather as much information as possible before . Useful questions to ask when speaking to faculty members or attending a subject talk/ drop-in session are as follows:
What are the major demands/deadlines of the course?
What does the course cover and what modules are on offer?
How will I be taught (e.g. lectures, tutorials, laboratory time) and what class sizes can I expect?
How am I assessed and what kind of reading/research will be required outside of teaching hours?
What are some of the graduate outcomes/typical career paths of this degree?
There's a strong likelihood that many students will be visiting university campuses before they apply to university, so this is a useful opportunity to ask about academic entry requirements.
Note: Some university applications and essay prompts will ask applicants to give a personal account of what has driven them to apply to that particular course/ university, and why they'd be a good cultural fit. So encourage your students to take some notes/reflect on this while they're visiting.
Explore the campus
When students attend an open day, they could be visiting the place where they will be spending some of the most formative years of their life. So the university campus needs to be somewhere where they feel at home, where they feel compelled to get involved with university life, and where they will forge some memorable friendships.
Most universities will offer 'official' guided tours of their campus, and these are a great chance to ask questions and get a feel for the university and its facilities.
But going off the beaten track and exploring the university campus on their own terms will be an invaluable experience for students. Some useful things to check out on the day include:
Tour student accommodation
Halls of residence and student accommodation comes in all shapes and sizes. As part of their research, it's useful for students to look at:
The cost of accommodation, and how it fits in with their budget.
Is student accommodation catered, or self-catered? If students will have to prepare their own food, then how close are the nearest shops?
How close is the accommodation to the main university campus and, if they need to travel, what are transport links like?
What is the social life like?
Student accommodation is often a good measure of a university's culture and a great insight into day-to-day life whilst studying there.
Explore university facilities
Students won't be just be using a university campus for their taught courses. Other on-site facilities worth checking out on a visit include:
University libraries – the library will be an invaluable study resource for most students.
Student unions – these are often a great place for students to socialise when on campus. Student unions will also be responsible for the organisation of university social events to a greater or lesser extent, depending on the institution.
Sports facilities – if you have students who are keen sports players, or hoping to play for their university or college team, then touring relevant sports facilities is fairly crucial.
Music/drama facilities – again, if you have students who want to join drama societies, music societies or orchestras/bands, why not encourage them to check out what facilities and opportunities the university has on offer?
Don't forget local towns and cities
In the course of their university research, your students may have already decided on whether they want to study at a campus-based university, or somewhere which is more city-based. Nevertheless, exploring the wider area is a useful thing to do.
After all, university brochures and prospectuses are designed to sell a university, and the adjoining area, to prospective students. But students should take the time to make up their own minds.
So encourage them to explore the nightlife, cultural attractions and extra-curricular opportunities on offer. It's also worth checking out the proximity of the campus to local town and city centres. Is it easy to get into town if they fancy a change of scenery?
What if students can't visit the campus?
Good news – most universities offer virtual tours and open days to cater to international students who may not be able to make the trip in person. Most universities offer a virtual guide to their campus on their main website. Some are even introducing VR campus tours via a downloadable app.
Companies such as Campus Tours and Youvisit also offer a range of virtual tours, giving students access to thousands of international destinations from the comfort of their own home (although it's worth noting that these companies only offer tours in certain countries).
What should students do next?
After their campus visit, students should reflect on what they've learned from the experience:
Does the university's location and overall campus culture fit with their original perception? Do they think they will enjoy life at that particular university?
Can they think of reasons why they will be a good fit for the course they have chosen, and why it aligns with their academic passions and goals?
Do they have any memorable impressions or experiences of the campus which would help them in the writing of application essays and personal statements?
Compiling these thoughts and reflections on their campus visits is useful preparatory work for the next stage of applying to university. As students begin to plan and structure their application submissions, they can go forward in the certainty that they are making more informed decisions.
If their visit made a lasting impression, and if they've found a university that's truly right for them, then their applications will be fuelled with the necessary passion and conviction to make them really stand out.
Book a free demo
Learn how BridgeU can help deliver better outcomes for your students and improved results for your school