Come and work with us!
We're always keen to hear from people whose values and passion for widening access to international higher education aligns with our own. If this sounds like you, we'd love to hear from you.
Our Core Values
BridgeU was created because of a desire to embrace change and create opportunities for young people around the world, and we want our people to believe in this too.
We're a team that cherishes diversity and ingenuity. We're always eager to learn and to challenge the status quo. We place empathy, knowledge sharing and collaboration at the heart of everything we do. And we love coming to work together every day!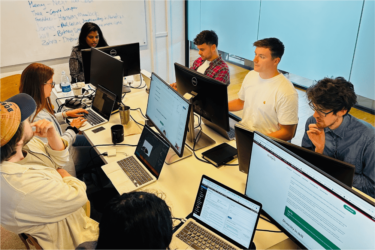 Our company has grown and evolved a lot in the last decade and we're not comfortable standing still. We take responsibility for our own development and we actively seek feedback at every opportunity.
We communicate with empathy and respect, listening to each other's point of view.  We're great collaborators and however passionate we are, we will always choose the way forward that is best for our team, our business and our community of students and educators.
We're passionate about what we do and this is what drives us. We work towards important goals with energy and enthusiasm and we stick to them when things are difficult. We are creative, resilient and adaptable problem solvers, and we rise to challenges as a team.
We know that diverse teams make the best decisions, and so we seek challenges from those who have different perspectives to us. We are brave enough to speak up if we have a different viewpoint, even if it creates a conflict. We challenge each other respectfully and directly, and actively seek out opposing viewpoints. 
We're Hiring!
Take a look at our current vacancies below. We'd love to have you on board.